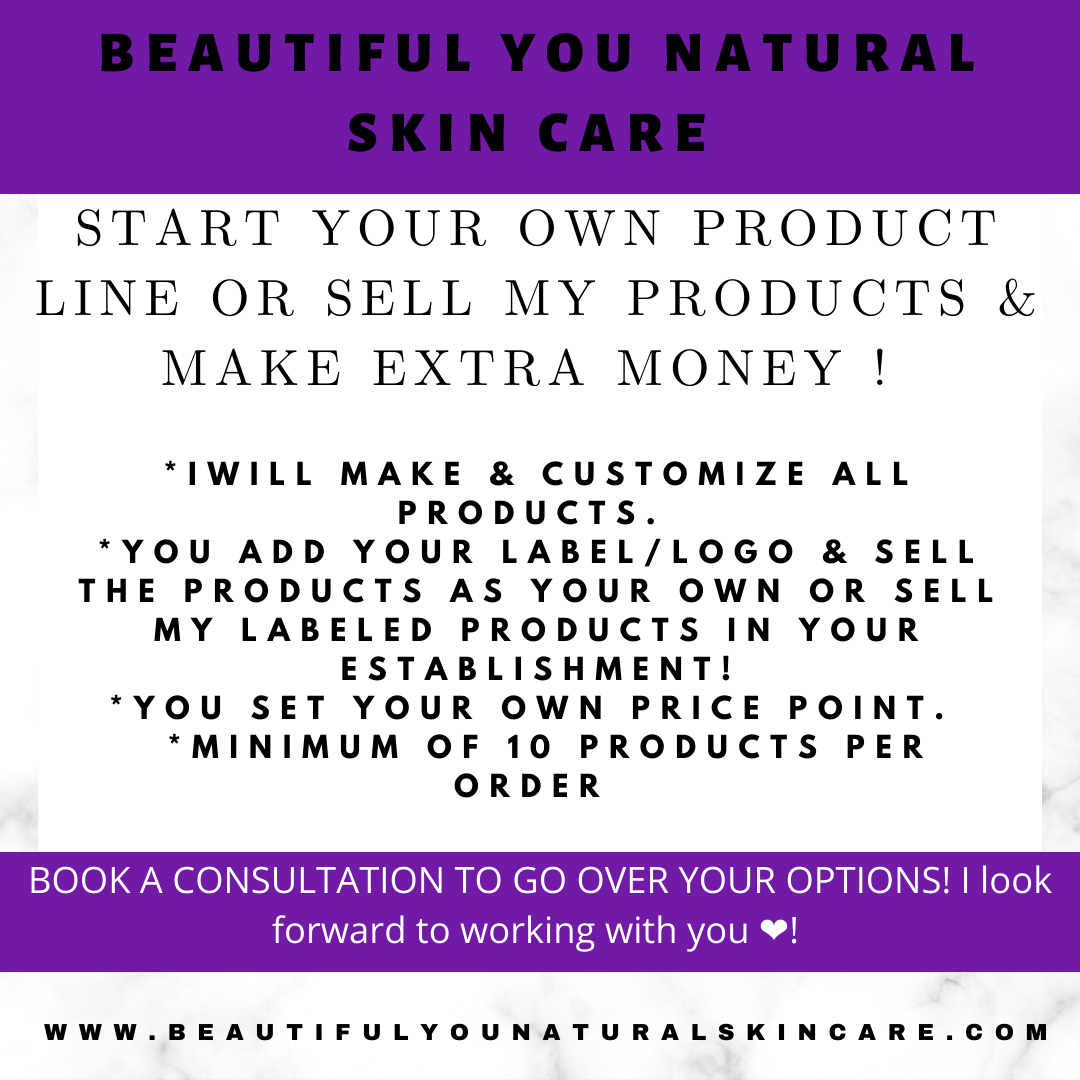 Private label/wholesale market
INTERNATIONAL SHIPPING IS AVAILABLE ❤️! Click "contact" at the top or bottom of the page with information on the products you're interested in and your location and we can go from there!
**MINIMUM ORDER SIZE IS 10 PRODUCTS**
*WHOLESALE are products made in bulk containing my product labels that can be sold at your establishment.
*PRIVATE LABEL products are made by me but will be sold as your own products with your label/logo on them. You can brand and market them however you'd like!
*Please book a consultation first.*
In the consultation we will go over what products you'd like, sizes, quantities, ingredients, customizations, prices and more. I do not provide labels but I can assist you with resources on where to get them designed and printed. If you would like to move forward, you will have the option to receive a few sample products before placing your bulk order. Once you are ready to order, I'll send you a custom order link with everything included!
Prices start at $8/per product but it depends on what you'd like to have made.
ALL products are available for private label purchases EXCEPT the Peppermint Hair Growth Oil and Ylang Hair and body oils but I can make other hair growth products for you!
Body butters will be available again once the temps in AZ decrease and they can be shipped without melting.
If you've wanted to start your own hair growth/skincare line but don't have time to make the products, this option is perfect for you! I'll make the products for you without the label so you then add your own logo/label and sell the products as your own!! We will need to have a consultation first and then you can have the products customized for you! Your new customers will love these products!
Added essential/fragrance/carrier oils:
Patchouli, teakwood, lavender, sweet pea, lemongrass, Jasmine, Ylang Ylang, rosemary, Eucalyptus, chamomile, tea tree, Helichrysum, clary sage, frankincense, rosemary, seabuckthorn oil, palmarosa, Cedarwood, vanilla, copaiba, Sandalwood, orange, light blue (similar to Dolce and Gabbana scent), Sandalwood bourbon, Jean Paul Gaultier, citrus blend, aqua di gio, hyaluronic acid, rosehip oil, carrot seed oil, green tea extract, vitamin c, licorice extract, Turmeric, jojoba, argan oil, avocado oil, sweet almond, Castor oil, (mango, pomegranate, mixed berry for lip kits) blueberry seed oil(not blueberry scent), pink himalayan salt, sea salt, dead sea salt, oatmeal, brown sugar, activated charcoal, shea butter, mango butter, coconut oil, Vit E oil, and aloe. The various oil can be mixed and other ingredients can be purchased based on your needs.
A variety of more packaging options will available as well!!
**MINIMUM ORDER SIZE IS 10 PRODUCTS**